19 Jul 2016
Ascoli Piceno's Art Gallery: a journey into the beauty of art

Today "Museum" will guide you to discover the beautiful Art Gallery. We'll admire precious works of art, displayed in dreamlike rooms, rich in luxury furniture, mirrors, chandeliers and draped curtains.It's wonderful! It even gets difficult to choose something to focus on, for how many paintings and works of art are displayed here and for how fine is everything around. The aristocratic atmosphere of these rooms take us along a journey trough paintings and art from the thirteenth to the nineteenth century.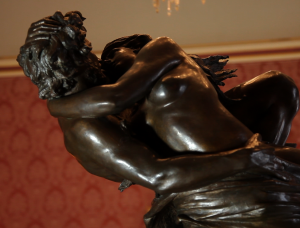 The Museum Collection was inaugurated in 1861, thanks to two artists of Ascoli Piceno, Giorgio Paci and Giulio Gabrielli, who put together the heritage of Ascoli Piceno Holy Art: from the churches and from the picture galleries of the Monasteries of Ascoli, Sant'Angelo Magno, San Domenico and that of the Jesuits. From there they got artistic creations so wonderful as those of Tiziano, Guido Reni, Cola d'Amatrice. The Picture Gallery enlarged its collection and at present it collects eight hundreds pieces: pictures, sculptures, realized also with the precious travertine of Ascoli, and ceramics, coming from Marche Region and from all over the world.In 1920, the collection was enriched with the artistic heritage of Antonio Ceci, doctor and fond of art, who gave his town Ascoli one hundred works of art that he collected during his travels around the world.
The Ceci collection will leave you speechless: it's truly wonderful and very rich and therefore it occupies more than just one exhibition room. It is an heterogeneous collection that shows, at the same time, a full and sincere sensibility for art and an eclectic taste, that ranges from painting to sculpture, passing through furnishings : this one, for example, is a special wood an ivory inlaid Studiolo (cabinet). Among the most precious works of art collected in the Picture Gallery, the most important are the two Triptich of Valle Castellana that date back to the XV century: they are two baroque masterpieces realized by Carlo Crivelli. Moreover, there is another baroque work of art, the sublime "Annunciation", realized by Guido Reni. The collection can boast also a Cope, holy parameter dated XIII century. It was given by Pope Niccolò IV to the Dom of Ascoli in 1288. The precious collection includes also pictorial works of art of universal artists: from the "Saint Francesco who gets the stigmata" of Tiziano to the "Love walk" of Pellizza da Volpedo.