26 Jan 2019
Landscapes and culture: innovative journeys through art in Montefiore dell'Aso

In the heart of the Marche region, a small village surrounded by Medieval walls overlooks the Aso valley; in just 73 km, the river's course runs from the Sibillini Mountains and empties into the Adriatic sea.
This week, Museum takes us to Montefiore dell'Aso; we are guided by the architect Antonella Nonnis, who oversaw the renovation and organization of the Polo Museale San Francesco museum facility.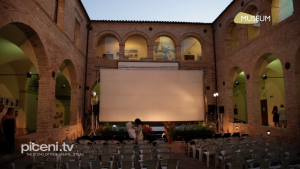 In the late thirteenth century, shortly after the death of St. Francis of Assisi, a community of Franciscan friars started the building of the monastery now home to Polo museale San Francesco.
Built at the edge of town, the Monastery still enjoys an enchanting landscape.
The monastery complex includes testimonies of works and authors that were born or lived in Montefiore dell'Aso – artists who took their inspiration from this village to create works of art that left their mark in Italian art history. One of them is Carlo Crivelli, the Venetian artist who in 1468 moved from the Dalmatian Coast to the Marche region, where he remained, working in this territory until his death.
On the monastery's first floor, a room in half shadow displays part of the famous polyptych with the winking Magdalene, which the artist painted in the early 1470s for the Church of the Franciscan Friars in Montefiore dell'Aso.
Giancarlo Basili, a production designer for Italian art films and winner of numerous prizes, was born in Montefiore dell'Aso. Here, Polo Museale preserves sets from some of the most significant films in recent years, alongside photographs, and scene sketches by such artists as Gabrielle Salvatores, Nanni Moretti, Daniele Luchetti, Marco Tullio Giordana, Carlo Mazzacurati, and Gianni d'Amelio.
Every summer, Centro di Documentazione scenografica Giancarlo Basili stages, in Montefiore dell'Aso, the Sinfonie del Cinema Festival, welcoming actors, directors, and professionals from the world of cinema inside the monastery cloister that centuries earlier echoed with the humble prayers of friars and beggars.
Set design is the leitmotiv that accompanies the visitor throughout the museum facility. From the set of Palombella Rossa, we move on to the museum of peasant culture, which in four scenes reconstructs, in actual scale, passages of life from a civilization – a rural culture – still quite present in the Marche region. After the yard comes the home built in earth and brick. From the road where the age-old artisans plied their trade with tools that are now museum pieces, to the ploughed fields, and then once again the panorama overlooking the enchanting Aso valley.
The painter's art is certainly quite present in the Marche region's hinterland. Domenico Cantatore, an internationally renowned modern artist, moved to Montefiore from Milan, to paint his dawns and sunsets – moments in a landscape that never fails to astonish.